Home > Kombucha Tea > Buy Kombucha Tea
Your Shopping Cart | Check Out
Original Kombucha Tea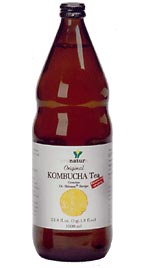 Item #2303
Original Kombucha Tea
1000 ml. (33.8 fl. oz.)
$24.96
Buy Now!
Pronatura now brings the original Dr. Sklenar Genuine Kombucha Tea Recipe to the United States for the first time. Dr. Sklenar's formula has been extensively researched and has been sold in Europe for over 30 years.
Kombucha Benefits Your Natural Health Defenses
Drinking Pronatura's Original Kombucha Tea every day can help promote and boost your natural health defenses. Conveniently bottled, Original Kombucha Tea is made in Germany and has a delicious thick rich taste.
Since ancient times fermented beverages have been used as part of healthful living. Kombucha Tea is rich in antioxidants and probiotics, which helps to detoxify and cleanse your body, promoting general health and well-being.
Ingredients: Water, black tea (from camellia sinensis leaf) kombucha cultures, sugar. Possible less than 0.4% alcohol due fermentation.
Suggested Use: As a food supplement for adults, drink 3-4 fl. oz. of Original Kombucha Tea up to 3 times a day.
Nature's Perfect Health Care Plan
Kombucha is a health care plan that you cannot afford to be without. Harmful environmental hazards are waging a never ending battle against your health. Order Dr. Sklenar's Original Kombucha from Pronatura and protect yourself with nature's perfect health care plan. Drinking kombucha tea is a delicious and beneficial addition to your diet.
5 reasons to drink Kombucha Tea
Customers also bought these Kombucha products: