Home > Allga San > Allga San Mineral Foot Bath
Your Shopping Cart | Check Out
Allga San Mineral Foot Bath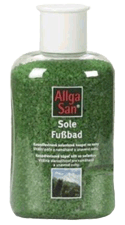 Item #4105
Allga San Mineral Foot Bath
350gm (12.25oz.)
$8.74
Vital Care for Your Stressed and Tired Feet!
Allga San's relaxing and revitalizing foot bath invigorates your tired, aching feet while gently cleansing and soothing damaged skin to reveal a beautifully renewed look.
Allga San Mineral Foot Bath combines the soothing effect of pure Mountain Pine oil with the refreshing essence of natural spring salt to stimulate blood circulation in your overworked and exhausted feet.
Benefits:
Relaxes tired, aching feet
Gently cleanses and soothes damaged skin
Stimulates blood circulation in your feet
For full benefits, Allga San Mineral Foot Bath should be used in combination with Allga San Foot Balm.
Application: Pour a capful into 3-5 liters of warm, running water (enough to fill the bottom of the bathtub and feet) and soak your feet for 10-20 minutes.
Made in Germany