Home > Allga San > Allga San Foot Balm
Your Shopping Cart | Check Out
Allga San Foot Balm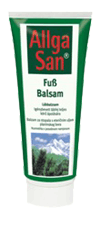 Item #4104
Allga San Foot Balm
100ml (3.38 fl. oz.)
$8.74
Invigorates Burning, Tired, or Heavy-feeling Feet
Allga San Foot Balm is ideal for burning, tired, or heavy-feeling feet, as well as for all-round healthy foot care. Specially formulated with Mountain Pine oil to stimulate circulation, this foot balm leaves your feet refreshed and renewed. Along with the many health benefits associated with Mountain Pine oil, Allga San Foot Balm smoothes and repairs dry, cracked feet and heels while protecting against negative environmental influences. Allga San Foot Balm also includes antibacterial ingredients to shield your feet from annoying foot odors.
Benefits:
Refreshes Tired, Burning Feet
Moisturizes and repairs dry cracked feet and heels
Stimulates circulation in your feet
Helps prevent annoying foot odors
For full benefits, soak feet in an Allga San Mineral Foot Bath prior to application.
Application: Massage a generous amount of foot balm onto feet and toes. Avoid contact with eyes and mouth. Not to be used for infants or toddlers.
Made in Germany