Home > Pomegranate Skin Care > Pomegranate Vitality Shower
Your Shopping Cart | Check Out
Pomegranate Vitality Shower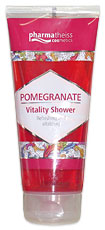 Item #4404
Pomegranate Vitality Shower
200ml
$14.55
Firms and nourishes dry skin
Pomegranate Vitality Shower is formulated to firm and nourish dry skin while you take a shower. The pomegranate seed oil and Panthenol formula nourishes your skin and helps strengthen it's protective barrier.
Taking a shower in the morning or in the evening gives your body renewed energy and freshness when you use this shower gel. The included extra virgin olive oil will moisturize your skin as much as necessary to get rid of dryness, even in hard water and low humidity.
Pomegranate Vitality Shower leaves behind a feeling of comfort and freshness. After your shower, your skin will exude a subtle pleasant aroma.
Benefits:
Pomegranate seed oil
Panthenol
Firms and nourishes dry skin
Made In Germany by PharmaTheiss Cosmetics
Read More:
Daily use of PharmaTheiss' Pomegranate Skin Care and Beauty Products
will help make your skin healthier, look and feel younger and be more radiant.