Home > Pomegranate Skin Care > Pomegranate Night Care
Your Shopping Cart | Check Out
Pomegranate Night Care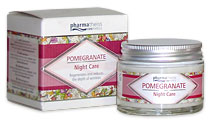 Item #4402
Pomegranate Night Care
50ml
$18.75
Regenerates your skin while you sleep
Pomegranate Night Care works to regenerate your skin while you sleep. It's special pomegranate seed oil formula reduces wrinkle depth and protects against signs of aging, making your skin smooth with a more youthful complexion.
It's antioxidant substances stops the aging process and protects your skin from external stress factors.
Pomegranate Night Care works all night, nourishing and protecting your skin, giving it a refreshed feeling after a hard day.
Benefits:
Pomegranate seed oil
Boosts the wrinkles from the inside
Works against the signs of time
Soothes and protects skin against external stress factors
Regenerates the skin during the night
Made In Germany by PharmaTheiss Cosmetics
Read More:
Daily use of PharmaTheiss' Pomegranate Skin Care and Beauty Products
will help make your skin healthier, look and feel younger and be more radiant.