Home > Pomegranate Skin Care > Pomegranate Hand Cream
Your Shopping Cart | Check Out
Pomegranate Hand Cream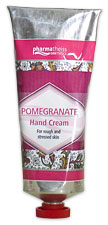 Item #4406
Pomegranate Hand Cream
75ml
$9.05
Out of Stock
Smoothes rough and stressed skin
Hands require careful attention and special care. Protecting them with this hand cream will restore youth, beauty and elasticity to your hands.
Pomegranate Hand Cream is specially formulated with pomegranate seed oil and avocado oil to smooth rough, dry hands. It smoothes the skin on the hands, restores damaged areas, and gets rid of "pimples" and wide pores.
Benefits:
Contains pomegranate seed oil and avocado oil
For rough and stressed skin
Works against the signs of time
Made In Germany by PharmaTheiss Cosmetics
Read More:
Daily use of PharmaTheiss' Pomegranate Skin Care and Beauty Products
will help make your skin healthier, look and feel younger and be more radiant.
Return to Pomegranate Skin Care