Home > Pomegranate Skin Care > Pomegranate Firming Face Care
Your Shopping Cart | Check Out
Pomegranate Firming Face Care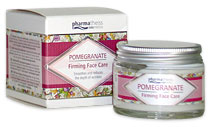 Item #4401
Pomegranate Firming Face Care
50ml
$18.75
Smoothes and reduces the depth of wrinkles
Pomegranate Firming Face Care smoothes and reduces the depth of wrinkles. This specially formulated facial cream boosts the skin from the inside and reduces the depth of wrinkles giving you a fresh and youthful complexion.
Pomegranate Firming Face Care reduces premature signs of aging while nourishing and moisturizing your face. It nourishes the skin with energy and makes your complexion more even and fresh.
Benefits:
Contains pomegranate seed oil
Reduces the depth of wrinkles
Gives you a youthful complexion
Made In Germany by PharmaTheiss Cosmetics
Read More:
Daily use of PharmaTheiss' Pomegranate Skin Care and Beauty Products
will help make your skin healthier, look and feel younger and be more radiant.