Home > Pomegranate Skin Care > Pomegranate Firming Body Butter
Your Shopping Cart | Check Out
Pomegranate Firming Body Butter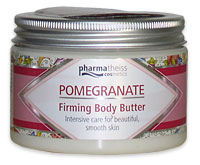 Item #4403
Pomegranate Firming Body Butter
300ml
$16.17
Intensive care for sensitive, dry skin
Pomegranate Firming Body Butter is youth and elasticity of the skin in one bottle.
Firming Body Butter provides intensive skin recovery at the arms, legs, neck and other parts of the body. The pomegranate seed oil and olive oil in this cream will make your skin young, supple and taut. Pomegranate Firming Body Butter strengthens and protects from negative environmental impact, giving a sense of youth and attractivenes to your skin.
Pomegranate Firming Body Butter is optimal for all skin types, but it will bring the greatest benefit to sensitive and dry areas, restoring their natural moisture. The cream has a subtle and attractive aroma, continuing even after it is completely absorbed.
Benefits:
Pomegranate seed oil
For Dry Skin
Smoothes and tightens your skin
Made In Germany by PharmaTheiss Cosmetics
Read More:
Daily use of PharmaTheiss' Pomegranate Skin Care and Beauty Products
will help make your skin healthier, look and feel younger and be more radiant.