Home > Doliva Skin Care > Doliva Intensive Cream
Your Shopping Cart | Check Out
Doliva Intensive Cream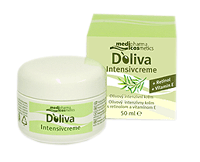 Item #4310
Doliva Intensive Cream
50ml (1.69 fl. oz.)
$11.90
Moisturizes and Regenerates Very Dry Skin
Doliva Intensive Cream supports the regeneration and cell renewal of very dry skin. Enriched with retinol and vitamin E, your skin is protected against further loss of moisture. The nurturing oils remain longer on the skin allowing very dry skin to regenerate more intensely. This cream feels velvety and soft when applying, and is gentle to the skin.
Benefits:
Supports regeneration and cell renewal
Moisturizes very dry skin
Soft and velvety feeling
Use: Apply gently to face, neck, and upper chest area after cleaning.
Made In Germany by Medipharma Cosmetics
Read More: