Home > Doliva Skin Care > Doliva Fresh Balsam
Your Shopping Cart | Check Out
Doliva Fresh Balsam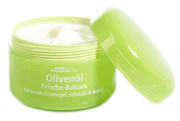 Item #4318
Doliva Fresh Balsam
250 ml (8.45 fl. oz.)
$14.28
Refreshens Skin and Relieves Fatigue
Doliva's refreshing balsam with olive oil and pantenolom softens the skin, while soothing and relaxing. With it's cooling moisture essences, you will feel instantly refreshed and comforted.
Doliva Fresh Balsam is ideal for use after spending time in the sun, working out, and for removing the feeling of fatigue, especially due to hot weather.
Dermatologically tested.
Benefits:
Softens skin
Soothes and relaxes
Made In Germany by Medipharma Cosmetics
Read More: