Home > Doliva Skin Care > Doliva Cleansing Tissues
Your Shopping Cart | Check Out
Doliva Cleansing Tissues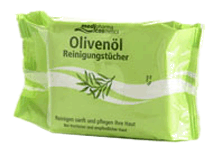 Item #4316
Doliva Cleansing Tissues
25 tissues
$9.10
Cleanses Gently and Provides Moisture
Doliva Cleansing Tissues contain olive oil, panthenol and vitamin E and are suitable for the daily care of your face and neck. Use these tissues to gently cleanse and moisturize your face.
These tissues are also ideal for removing your makeup.
Benefits:
Ideal for removing makeup
Cleans and moisturizes your face
Contains vitamin E
Suitable for daily use
Use: The olive oil cleansing tissues can be used twice a day.
Made In Germany by Medipharma Cosmetics
Read More: