Home > Doliva Skin Care > Doliva Cleansing Soap
Your Shopping Cart | Check Out
Doliva Cleansing Soap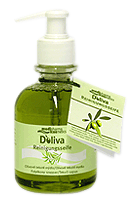 Item #4315
Doliva Cleansing Soap
250ml (8.45 fl. oz.)
$9.80
Cleanses Without Drying Out Your Skin
Doliva's Cleansing Soap has a neutral pH formula which cleans without drying. The virgin olive oil and nourishing panthenol cleans your skin while leaving it softer and protects it form drying out. This soap can be used on the entire body for gentle cleaning.
Benefits:
Cleanses without drying
Leaves skin softer
Protects skin from drying out
Use: Treat your whole body to the mild cleansing olive oil liquid soap.
Made In Germany by Medipharma Cosmetics
Read More: