Home > Doliva Skin Care > Doliva Body Balm
Your Shopping Cart | Check Out
Doliva Body Balm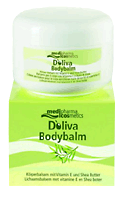 Item #4304
Doliva Body Balm
250ml (8.45fl. oz.)
$14.70
Moisturizes Dry and Sensitive Skin
Doliva's high-quality Body Balm with extra virgin olive oil supplies dry and sensitive skin with sufficient moisture without feeling greasy. The precious oils, vitamin E and shea butter in Doliva Body Balm protects your skin from drying out and supports its recovery.
Benefits:
Moisturizes dry, sensitive skin
Protects skin from drying out
Use: Body Balm can be applied to the entire body every day.
Made In Germany by Medipharma Cosmetics
Read More: