Home > Black Seed Supplements > Black Seed Oil XL Softgels
Your Shopping Cart | Check Out
Premium Black Seed Oil XL Softgels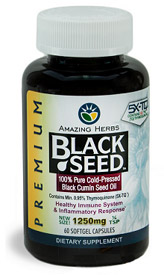 Item #4509
Premium Black Seed Oil 1250 mg XL Softgels
60 Softgels
$43.20
100% Pure Cold-Pressed Black Seed Oil XL Softgels contain 1250 mg in each mega capsule, which is the same as 1/4 teaspoon of black seed oil. The softgel makes it a very convenient way to take this most beneficial oil.
Amazing Herbs Black seed oil contains Omega's 3/6/9 and are non-GMO, naturally gluten-free and come in BPA free packaging.
Return to Black Seed Supplements
*These statements have not been evaluated by FDA. These products are not intended to diagnose, treat, cure or prevent any disease.