Home > Allga San > Allga San Leg Lotion
Your Shopping Cart | Check Out
Allga San Leg Lotion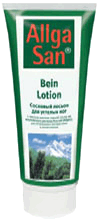 Item #4103
Allga San Leg Lotion
100ml (3.38 fl. oz.)
$8.74
Make Your Legs Feel and Look Refreshed and Sleek!
Allga San Leg Lotion invigorates and refreshes your tired, achy legs and works to firm the skin of your calf and upper thigh. It also tightens and strengthens your skin to give your legs a smooth, toned look. Allga San Leg Lotion provides extra moisture for the dry skin on your shins and calves and counteracts poor tone in the arteries of your legs.
Allga San Leg Lotion firms and stimulates circulation in the skin and hypodermic tissue of the upper thighs, promoting better blood flow and reducing cellulite. It also reduces the pain of large, engorged veins.
Benefits:
Invigorates tired, achy legs
Gives your legs a smooth, toned look
Moisturizes and strengthens dry skin
Stimulates better circulation in your legs
Application: Massage leg lotion into calves and thighs in the morning and evening, daily, as needed. Avoid contact with eyes and mouth. Not for use on infants or toddlers.
Made in Germany